CTI GRADUATE VESTMENTS:
DEACONS AND MISSIONARIES

Deacons and Deaconess Vestments: Exodus 28: 22-24 describes the purpose for two rings of gold on the edge of the breastpiece. It reads "And you shall make for the breastpiece two rings of gold and put the two rings on the two edges of the breastpiece. 24 And you shall put the two cords of gold in the two rings at the edges of the breastpiece." The two cords near the shoulders were attached to the Ephod and the two cords at the bottom of the breastplate to hold it in place.
Gold Deacons Cords: The modern form of the two gold cords as described in the scripture, appears to bare some similarity to the shoulder cords. Shoulder cords are most commonly used in military organizations, which signify the assignment given to individuals to perform specific duties for various high-ranking officers.
Military cords are worn on the left or right shoulder of service men and women. The placement of the cord depends on a special mission, assignment or branch within the Service. They are worn by personnel assigned to specific offices such as Aide-de-camps (general officer assistants). They wear the cord on the left shoulder. They assist general officers with carrying out administrative tasks associated with the responsibilities of that officer.
Similarly, deacons are given to the church to carry out tasks necessary to sustain the church and to facilitate the ministry of the Pastor. (See Acts 6:1-4).
Since deacons/deaconesses are technically the pastors' "right hand men/women", wearing the cord on left shoulder would represent his or her dedication to ensure day-to-day functions of the church are taken care of while the Pastor focuses on the welfare of the church body. The wearing of the gold shoulder cords by the deacons and deaconesses during ordination/consecration services will signify a distinction between nationally and locally ordained deacons/deaconess.
Custom Ties or Scarves: Deacons and Deaconesses will wear special ties and scarves that can only be worn by nationally ordained deacons and deaconesses. These special order items can only be purchased from the CTI Registrar, 904-779-5469.
Black Suits: Deacons and deaconesses will wear solid black collar suits during their ordination/consecration and other "Class A" events. The suits must not contain any stripes, or other designs. No other handkerchiefs, pins or other ornaments may be affixed. Women should wear modest jewelry and small studded earrings if she chooses. Suits to be purchased by candidates
Deacons White Shirts: Deacons will wear solid white collar shirts, no stripes or designs; no button down collars. Shirts to be purchased by candidates.
Deaconesses White Blouses: Deaconesses will wear solid white blouses without a collar. Blouses to be purchased by candidates.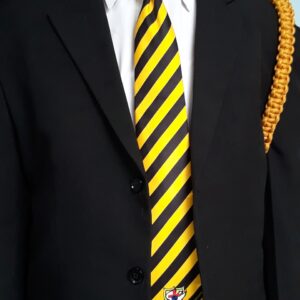 CTI Certified National Deacons
Must be CTI Certified to Order

Customized Gold and Black Deacon's Tie With ByFaith Logo

Personalized with "COGBF National Deacon"

Matching Gold Shoulder Cords

Choose your own solid black suit, no stripes or design

Solid white shirt, with standard collar, no button down

Cords must be affixed to left top of jacket shoulder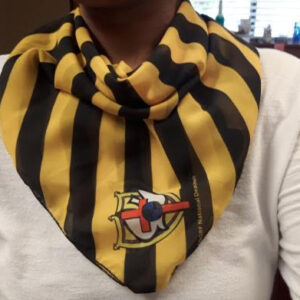 CTI Certified National Deaconess
Must be CTI Certified to Order

Customized Gold and Black Deaconess Scarf With ByFaith Logo

Personalized with "COGBF National Deaconess"

Matching Gold Shoulder Cords

Choose your own solid black suit, no stripes or design

Solid white blouse, with no collar, no button down

Cords must be affixed to left top of jacket shoulder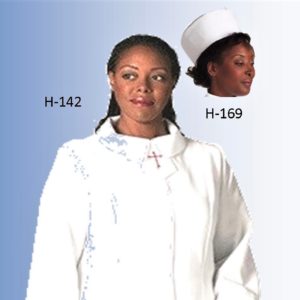 CTI Certified Missionary
Must be CTI Certified to Order

Order White Dress H142

Order Crown H169

Use the size guide first to get the best fit