PURPOSE OF THIS AUXILIARY
The purpose of this auxiliary shall be to improve the present status of Christian Education within the church, and to develop a framework of educational activities that will involve the total church. In addition, the National Board of Christian Education (NBCE) will be involved with overseeing and governing the operations of Matthews-Scippio Christian Academy (MCA). (COGBF Ritual pg. 96)
Mission Statement
Providing a platform for sharing God's Word, supporting the vision of the Executive Board, and developing Christian material through developed curricula that influence God-glorifying lives.
Vision Statement
NBCE will inform and empower the body of Christ by providing Biblical curriculum via Sunday School, Youth Outreach, seminars, workshops and leadership training program, and to inspire volunteerism which will enhance growth to the triune man.
OUR TEAM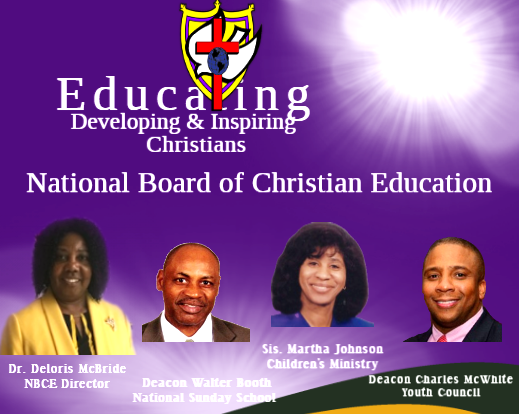 Membership
This auxiliary will be made up of two members per district to represent a cross section of the entire membership of the National Church.
Each person selected to membership must meet the following qualifications:
Be a member in good standing in a local body of the Church of God By Faith.
Possess leadership abilities; be able to devote ample time to the work of the organization. Be academically prepared to perform the duties required.
Duties and Responsibilities
Develop a strategic plan for Christian Education for the church at large. The plan should define learning goals, settings, resources, teacher identification, teacher development and evaluation.
1. Identify and recommend teachers for Children's Church and the Youth Department to the Executive Council.
2. Selection should be consistent with the Governing Instruments guidelines for children and youth ministries.
3. Develop a new discipleship education program for new members (no longer than six weeks) of material.
4. Approve curriculum for the children's and youth ministry.
5. Ensure the COGBF history, COGBF Catechism and Articles of Faith are included in the curriculum.
6. Develop a corporate Vacation Bible Study program.
7. Assist the scholarship committee with identifying potential recipients.
8. Meet at least once a quarter, report minutes to the Executive Council.
9. Provide an annual report by the General Assembly Meeting focusing on accomplishments and the next steps for the following year.