DOWNLOAD FIELD TRIP PERMISSION SLIPS
UPLOAD FIELD TRIP PERMISSION SLIPS
NATION
AL CHILDREN'S MINISTRY 2023 FAMILY CONFERENCE FIELD TRIP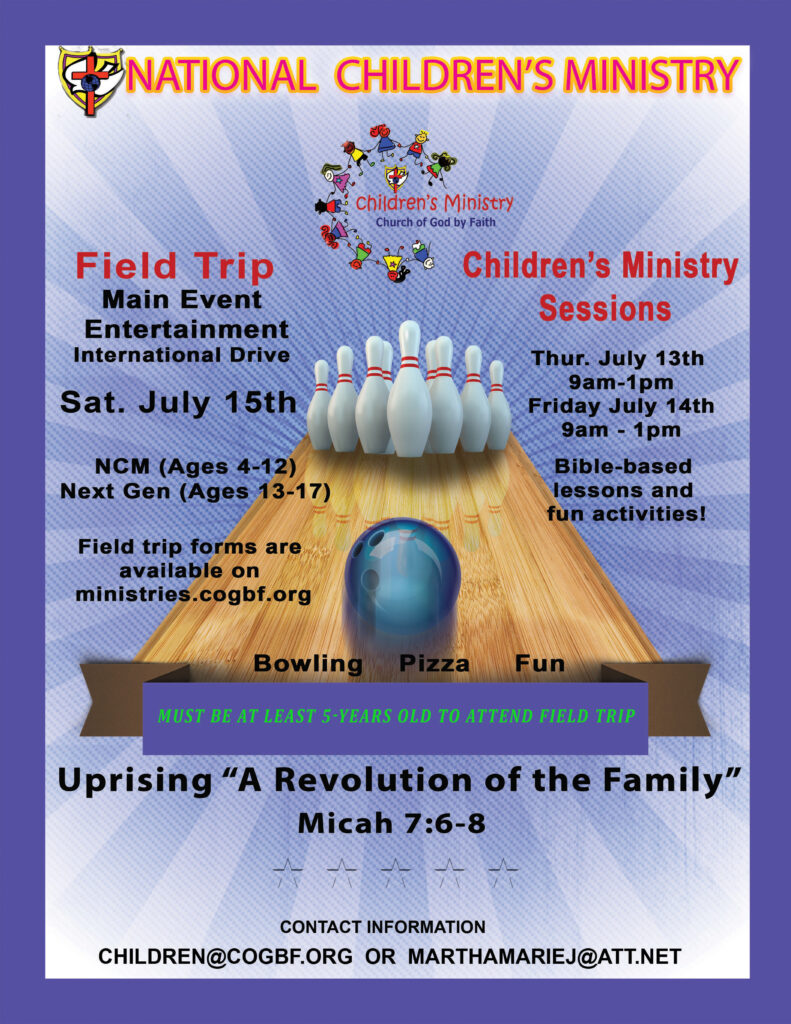 Calling all parents and guardians of children ages 5 – 17!
I
t's Family Conference time and the National Children's Ministry and Next Gen will host a field trip to The Main Event Entertainment Center in Orlando, FL! Enjoy bowling, arcade games, and a lot of fun for everyone! The field trip date is Saturday, July 15th.
We will meet in the assigned children's ministry area (Challenger Breakouts room) at 9:00 am and prepare to leave promptly at 10:15 am. We plan to return by 2:00 pm. Lunch will be provided at the center. Please download and complete the field trip form. Then, upload the completed form at the assigned place above.
For best results, please use your laptop or computer.

Must be at least 5 years old to attend the field trip.

If you are using a mobile phone to complete the form, for best use, turn the phone horizontally.

On the form, under "Name of Participant," add all child(ren)'s first and last name(s).

Completed forms can be scanned or a photo can be taken to upload.
If you have any additional questions, refer to the flyer or email us using the contact portal above.
National Children's Ministry 101st General Assemble Resources
Listed below are the Zoom recordings and PowerPoint presentations the National Children's Ministry presented at the 101st General Assembly. Please feel free to view and/or download and use these resources in for your families and churches. Please click on the photo to view and/or download the ones you choose to use.