100TH GENERAL ASSEMBLY REGISTRATION
Registration is required for in-person attendance. There will NOT be a seperate "One Stop Convention Offering." Attendees must register and give during the offerings as led by Lord. The seats are limited so please register today. Please be prepared to make your hotel reservation during the check-out process. The registration costs are as follows:
Registration for all licensed persons and Department heads is $150.00
Registration for all other adult attendees is $125.00
Registration for children ages 5-17 is $50.00
Registration for children 4 and under is required, but at no cost
VIRTUAL ATTENDEES
Official Virtual Delegate: $125.00
All other Standard Attendees: $59.99
Please use the link to the right to register today.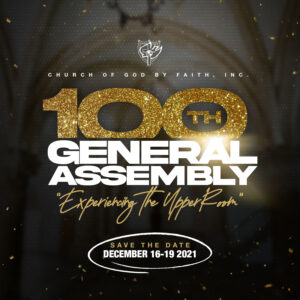 100TH GENERAL ASSEMBLY REGISTRATION
SPONSORSHIPS
Our 100th General Assembly is only a few months away and we are excited to present our very first hybrid event to celebrate this awesome milestone. Although we are saddened to know that everyone will not be able to join us in-person, we wanted to provide nine ways you can be present during the 100th General assembly (even if you can't be there in person).
To celebrate, we are offering our By Faith family the opportunity to represent yourself, your company, or honor the memory of your loved one by being a convention sponsor. Depending on the level of your giving, you will be included in the commemorative program with an ad, video ad spot, or in our special listing of patrons.
We know there are many ways to support this great event, however we ask that you give great consideration to being a sponsor. We know that the 100th General Assembly commemorative program will be a keepsake. Don't be left out!
Vaccination Verification
As we prepare for the 100th General Assembly, one of the most important task of the Executive Council is to keep everyone safe. Consequently, they have mandated that ALL IN-PERSON ATTENDEES MUST BE FULLY VACCINATED, except for children under age 12. If anyone has already registered but have not and do not plan to be vaccinated, please inform us so we can refund your money immediately. Please read these steps completely before completing the form to the right:
1. Take a picture or scan your vaccination record card
2. Go to your email to get your Eventbrite Order Number
3. Click on the image to the right and upload up to four record cards
4. Fill out the information completely before submitting
SUBMIT RECORD CARD HERE
LATEST 100TH GENERAL ASSEMBLY UPDATES
It is with Jesus's joy that we announce the in-person and virtual 100th General Assembly. These past several months have been challenging to us all in our quest to bring normalcy back into our lives. We are excited that will be able to regather in Atlanta, GA for the100th General Assembly. This General Assembly will be like no other as we will have to strictly abide by a different set of rules and policies to keep our attendees as safe as possible. Please read and become familiar with the latest information listed to the right that will help guide you through this process. I look forward to seeing you in Atlanta.
With Warm Regards, Pastor Andre' McBride.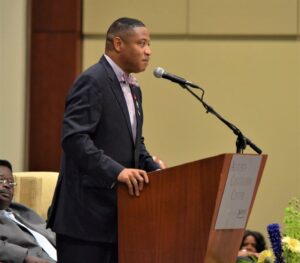 LATEST CONVENTION UPDATES
100th GENERAL ASSEMBLY
ByFaith, we are so excited about our 100th General Assembly in Atlanta, GA. The theme is: "Experiencing the Upper Room." As a result of current COVID-19 protocols and restrictions, all attendees must register for in-person attendance at the December 2021 convention. There will be no exceptions.
Date: Thursday – Sunday, December 16-19, 2021
Location: Hyatt Regency Hotel in Atlanta, GA.
General Sessions will also be shown on the National Facebook and YouTube channels.
Attendees who view online are asked to complete a Virtual Registration to help support the conference. Please watch this video from Bishop McKnight.
Convention Message From Bishop McKnight
CONVENTION ADS
The registration this year is very simple and convenient. We are sincerely asking everyone to register to help defray the cost of putting on this historic, spirit-filled event. Each registrant will be mailed a Commemorative Convention Booklet before the start of the convention. There are three tickets: one for individuals, another for churches and the final one for districts. We also added a giving portal for those who would like to contribute when the tickets are purchased.
Please click the link to the right for details: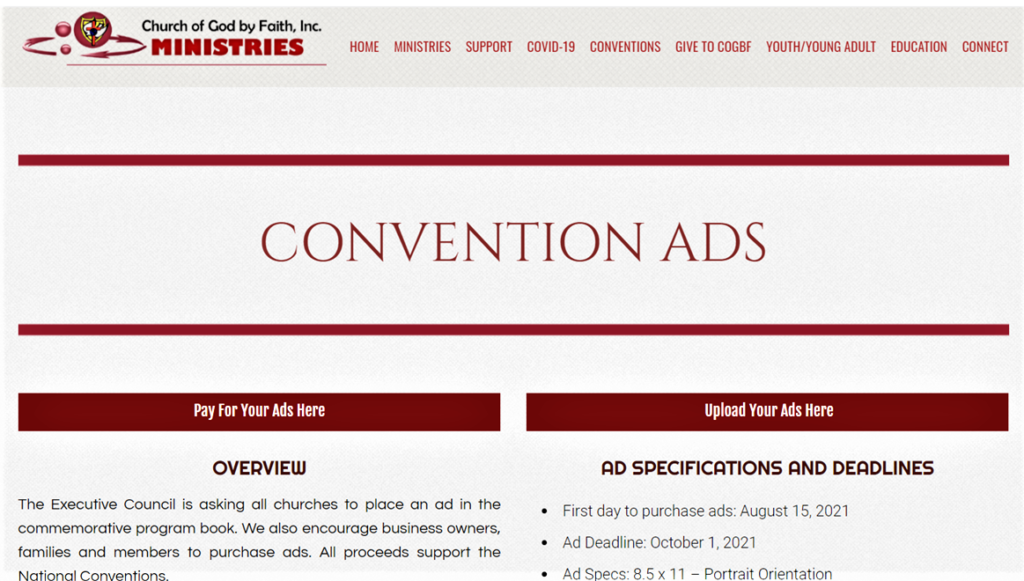 PAY YOUR CONVENTION ADS HERE
VIRTUAL STREAMING VOLUNTEERS AND ASSISTANCE
As the Coronavirus Pandemic has made social distancing the new normal, Church of God by Faith Incorporation in collaboration with the Volunteer Ministry has established and continues to develop innovative solutions so that we can continue to maintain a servant-hood approach, even as we have been instructed to limit large gatherings. This unique challenge is a unique opportunity to re-imagine our volunteer approach.
Please click on the link to the right for details.
HOW TO WATCH THE CONVENTION GENERAL SESSIONS
The Year-end Virtual Conference general sessions will be broadcast at 12:00 Noon (EST) and 8:00pm (EST) on Thursday – Saturday of the convention. On Saturday morning, there is a very special Women's Ministry Service at 9:30am (EST) and the closing Sunday Service is at 10:00am (EST) that will also be broadcast on Facebook and YouTube.
All General Sessions will be broadcast on the following two sites:
The Official National Church of God by Faith Facebook page
Church of God by Faith, Inc. YouTube Channel
HOW TO JOIN ZOOM BREAKOUT SESSIONS
Zoom is a popular video app that allows users to see and hear all of the participants who join a session. During our conference, all you need to do is click the link under the break-out session and wait for the host to let you in.
There are several video tutorials to help you login including the one to the left.
If you need additional help, please click this link.