GAMP – God's Anointed Men Praying
May 2, 2020 – 10:00 am (EST)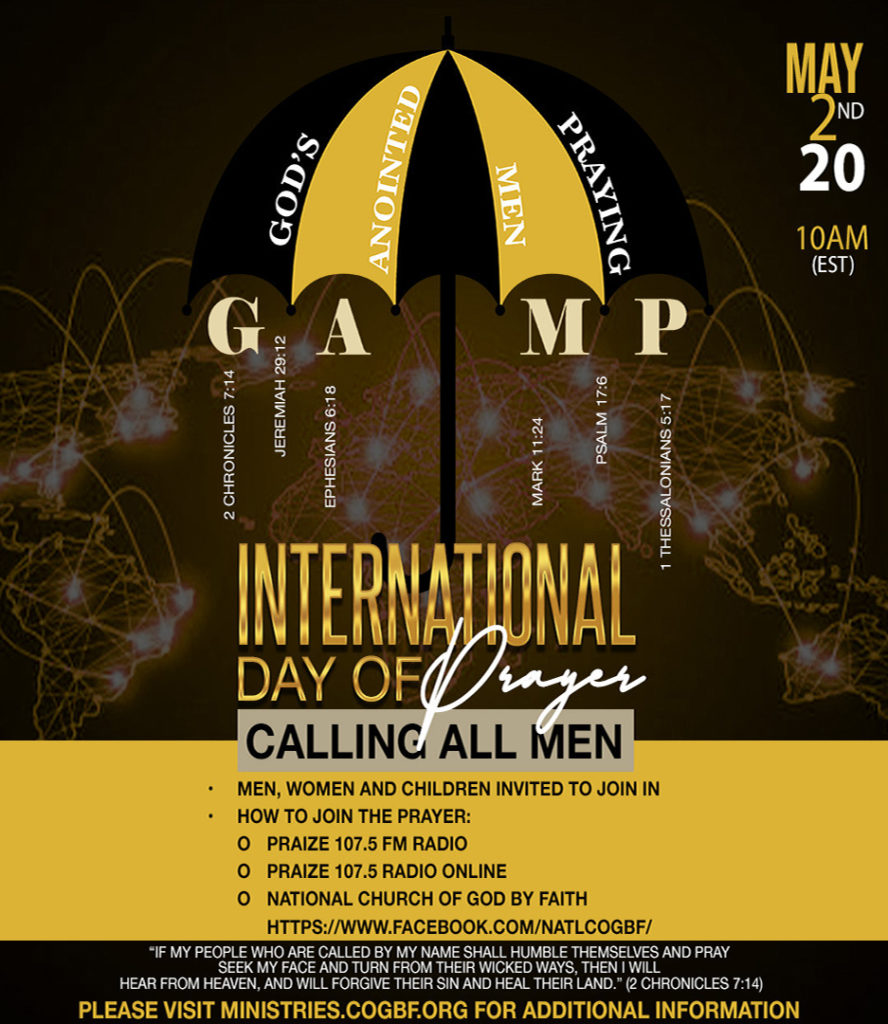 Please Click Here to View Full Flyer
BACKGROUND
GAMP believes that we have a perfect storm to unite men and countries around the world to humble themselves and pray to God for guidance for relief from the current pandemic. "I desire therefore that the men pray everywhere, lifting up holy hands, without wrath and doubting." 1 Timothy 2:8 (NJKV)
WHAT IS A GAMP?
A GAMP is defined as a large umbrella. God's Anointed Men Praying (GAMP) was birthed out of a small group of men that have met since July of 2018. We have been led to provide an opportunity for Men of Faith to pray and seek God's Face during these troubled times. On May 2, 2020, at 10 am (Eastern Standard Time), an International Day of Prayer will take place. Selected men will lead prayers across the nation and internationally to cover their families and communities.
As the world is on pause, many who have been in denial about the sovereignty of God are now open to understanding God is the sole solution for the healing of our land. As leaders, it is not a time for passivity; instead, an opportunity exists for men to boldly seek direction and real connection to God.

INTERNATIONAL DAY OF PRAYER
The prayer will broadcast on radio, social media, podcast and various other forms of communication:
Praize 107.5 FM Radio (Pastor Shirley)
ITINERARY
Date: May 2, 2020

Time: 10:00am

Hosted on Praise 107.5 with various Prayer Leaders
PLEASE HELP US ADVERTISE
Share this link on your Facebook pages
Send messages to your church
Share on twitter – #whenmenpray 0r #prayersfortheworld
WHO CAN PARTICIPATE?
All members in the Body of Christ, regardless of age, gender or denomination. While we are encouraging all men to pray, we certainly hope women will join the prayer too. "If My people who are called by My name will humble themselves, and pray and seek My face, and turn from their wicked ways, then I will hear from heaven, and will forgive their sin and heal their land.." 2 Chronicles 7:14 (NKJV)